FOR IMMEDIATE RELEASE                                                                                                                      
Historic Delta Queen Steamboat to resume overnight voyages on inland waterways
U.S. House of Representatives approves one-of-a-kind vessel's return to America's rivers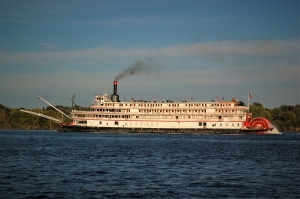 KIMMSWICK, Mo. (Nov. 27, 2018) – The nation's last authentic overnight steamboat may once again cruise the rivers of America's Heartland and Deep South. Today, the U.S. House of Representatives reinstated an exemption to allow the Delta Queen Steamboat to return to service after a decade-long retirement.
"A remarkable piece of the nation's maritime history is reborn," said Leah Ann Ingram, Vice President and Chief Operating Officer of the Delta Queen Steamboat Company. "The Delta Queen is an American icon that offers a nostalgic experience unlike any other vessel. Since 2010, restoring and returning her to overnight service has been our mission. Today, we're thrilled to take the next step to welcoming explorers and history enthusiasts aboard this floating piece of history."
Beginning in 2020, themed voyages will operate on the Mississippi, Ohio, Tennessee, Cumberland, Kanawha and Arkansas Rivers. The vessel will first undergo an extensive renovation at a ship yard in Houma, Louisiana.
"Preserving the boat's historic integrity and ensuring passenger safety are our priorities," said Cornel Martin, President and CEO of the Delta Queen Steamboat Company. "With this approval, we may now move forward with our renovations and return her the waterways, where she belongs."
In 2008, the Delta Queen was forced to retire from service when her Congressional Exemption from the 1966 Safety at Sea act expired. The law intended to prohibit ocean-bound vessels from carrying overnight passengers unless completely made of non-combustible materials included the Delta Queen, even though she was never more than several hundred yards from shore. Congress approved nine exemptions over four decades to allow the Delta Queen to continue operations until 2008. The vote today completes a decade-long legislative effort to renew the exemption.
Once signed into law by the President, major repairs will begin to allow the Delta Queen to return to overnight service.
"We are thrilled the Delta Queen will be restored to her original grandeur and returned to our riverfront," said Mayor Philip D. Stang of Kimmswick, the vessel's home port. "The distinction she brings to our city elevates our presence as a historic destination. In addition, the revival of river cruising will create hundreds of jobs and a significant economic boom in Kimmswick and the many other ports of call. We are grateful for this partnership and look forward to generations of cruising to come."
The Delta Queen is a National Historic Landmark and on the National Register of Historic Places. The steamboat is also included in the National Maritime Hall of Fame and was named a National Treasure by the National Trust for Historic Preservation.
"On behalf of all of us at The Delta Queen Steamboat Company, we would like to thank our past passengers, supporters, crew members and law makers who did not give up on our efforts to save the Queen," said Martin.
"Returning the Delta Queen to service would have been impossible without our supportive legislators, namely Ohio Congressman Steve Chabot, Missouri Senators Claire McCaskill and Roy Blunt, and Missouri Congressmen Blaine Luetkemeyer and Jason Smith," added Ingram. "In addition, we must thank the many government officials in Jefferson County, Port Authority and Economic Development Corporation who have been steadfast in their dedication to the Delta Queen's return to her home port."
For more information about the Delta Queen and upcoming cruises, go to www.DeltaQueen.com.
About Delta Queen Steamboat Company
The Delta Queen Steamboat Company was founded in 1890 and originally known as The Greene Line. The company is made up of several long-time supporters and former employees of the Delta Queen steamboat. The mission of the company is to preserve, restore and return the legendary Delta Queen to overnight cruise service through the inland rivers of America's heartland.
Media Contact: Kelsey Chastain
kchastain@waterhousepr.com
(423) 648-7358